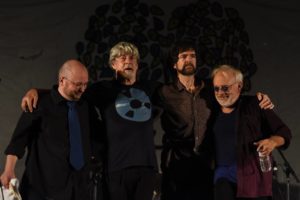 -Parke Puterbaugh
It would be an exaggeration to say the Spongetones have mastered every nuance of melodic rock and pop from A to Z. However, I'd contend they've assimilated all the best from B to X. That's B as in Beatles and X as in XTC. Those are the inspirational benchmarks for this beloved North Carolina foursome. More generally, they internalized the musical stylebooks of both British Invasions" the Merseybeat one of the mid-to-late Sixties and the New Wave uprising that kicked off in the late Seventies" and then refashioned them into their own likeably upbeat and unfailingly resourceful sound.
Part of the fun of hearing the Spongetones is detecting faint echoes of favorite bands not just the Fab Four and the weirdly wonderful XTC, but also such revered touchstones as the Dave Clark Five and Rockpile. An even bigger kick is realizing that this foursome moved beyond their influences to craft a catalog of original pop songs that can hold its own with any other you might care to name. Incidentally, I mean pop in the best sense of the term, connoting energetic, innovative and melodic music capable of lifting the spirits and moving the feet. In my non-American Idolized universe, pop is not a dirty word but a signifier of excellence in a particularly rich stylistic realm with roots in the Sixties.
I have just one complaint about this disc, and it is certainly no fault of the Spongetones. Instead of being a best of, this should be a greatest hits. Catch the difference? These are some of the choicest songs from an idealized Top Forty in which the cream actually does rise to the top. In a review for Rolling Stone, I wrote that the Spongetones first album, Beat Music (1982), played through "like the soundtrack to a party so good it could never happen in real life." That observation applies equally well to every other album they've released, too. And it particularly holds true for this absurdly generous 26-track compilation, which culls the best from Beat Music through Number 9. If you've never heard the Spongetones before, let's just say you've stumbled onto a veritable Tutankhamen's tomb of musical treasure. If you're already up to speed, this will serve as a very tasty sampler for a catalog that, as you know, is worth devouring in its entirety.
The Spongetones pop odyssey began back in 1978 when Jake Berger, a musical ideas man from Charlotte, NC, assembled an impromptu combo to play some Beatles covers because well, just because it sounded like a fun thing to do. The Fab Four were eight years disbanded, the worst of the Seventies had begun to ebb, and punk and New Wave were reinvigorating the musical landscape with hooky, high-energy songs and brash, youthful attitudes reminiscent of the previous decade's tuneful cannonades. Given such a climate, it was both natural and innovative to revisit the work of the Beatles, the Rolling Stones, the Who, the Yardbirds and their like.
For bassist Steve Stoeckel, guitarist Pat Walters and drummer Rob Thorne the three other Spongetones at that juncture the Sixties covers concept offered a chance to bring an additional decade of musical mastery to songs they'd played when they were teenagers. We thought, ˜Now that we really know how to play the stuff we were banging away at when we were 16, let's have some fun and play this music to the best of our ability," Steve recalls.
"The time was ripe for it," adds Pat. Everybody was responding to the music of their youth, and we were trying to do it right. We really did run the gamut: ˜For Your Love,˜House of the Rising Sun, ˜You Really Got Me" And, of course, scads of Beatles songs.
"It had a rawness, too," says Rob, "the way the originals had that rawness way back then."
Those sporadic first Spongetones gigs were great fun and began attracting crowds. One night, guitarist Jamie Hoover was in the house at the Double Door" the group's home base of longstanding - thinking to himself how badly he wanted to be onstage with them. As fate would have it, another early member was about to leave and Jamie was asked to join on the spot after the show when he made his interest known. The final piece of this four-way puzzle had fallen into place, and the Spongetones went from being an intermittent lark to a seriously committed endeavor.
What really sent the group into a higher orbit was their decision not just to replicate, with chops and feeling, the music of their youth but also to bottle that lightning for themselves by writing original songs that took the styles of their mentors and influences as starting points.
"Jamie was one of those guys who had a four-track recorder at home when he was in high school," notes Pat. "He was already working in a studio and starting to produce records. So when he joined and the crowds began getting even bigger, we said, ˜Man, we need to write some songs and see if we can capture the energy and excitement on some records of our own!"
"We'd been playing in cover bands, and it never would have occurred to me to take a step past that, but immediately Jamie and Pat said, ˜We need to write songs. We can do this!" Steve recalls. "So we took it to the next step of writing and recording our own stuff."
The Spongetones debuted in 1980 with a single "Better Take It Easy" b/w "You're the One" released on their own Gear Records label. They also began working original material into the live shows, too. This took no small amount of conviction, because almost any other band would have hesitated to rock a boat that was steaming ahead so successfully. If you never saw the Spongetones covering the work of the Beatles and others around the Carolinas in the early-to-mid Eighties, mere words cannot do justice to the spectacle of crowds crammed into venues and almost literally hanging from the rafters. The energy level was at the boiling point on both sides of the stage, and Jamie recalls they'd even talked about placing oxygen tanks onstage to keep them from passing out from the heat, sweat and intensity.
Given the opportunity to open for the Kinks in Charlotte, they played an all-original set. That set the course for the future, because as times changed and the mania for covers inevitably died down, the Spongetones were amassing a growing catalog of originals and a loyal audience that wanted to hear them. They debuted with the legendary Beat Music, a trailblazing American update of the British "beat music" style of the Sixties that was released on Ripete Records. Then came Torn Apart (1984), Where-Ever-Land (1987), Oh Yeah! (1991), Textural Drone Thing (1995), Odd Fellows (2000), Mersey Christmas (2001), Beat! The Spongetones (2001) and Number 9 (2005).
Over the years, their consistency on record has been remarkable. Of course there have been stylistic shifts here and experimental wiggles there, but they've always focused on making the best possible pop music. With a prodigious scoop of their finest waxings gathered in one place, Always Carry On: The Best of the Spongetones, 1982-2007 is an embarrassment of riches.
Where to begin? For starters, the way-cool DC5 homage "Cool Hearted Girl." The magical swirl of voices in "Anna." The anthemic ring and jump-to-it rhythms of "Oh Yeah!" The heartfelt pledge of loyalty and devotion " a simultaneous paean to friends, loved ones and bandmates" of "Always Carry On." The lush, lovely melodic contours and clever wordplay of "Infatuation." The ripping power-pop intensity of "(My Girl) Maryanne." The heavenly Hollies-meets-Byrds harmonies of "Better Luck Next Time." Their blistering live energy is on display in "Where Were You Last Night," a previously unreleased performance from CBGB's.
Nearly 30 years after their first gigs, the Spongetones remain devoted to the band and all that it represents. They're still gigging regularly and cutting incredible records, swearing there's no end in sight because there's nothing they'd rather do than make music with one another.
They cemented that vow on a New York street several years ago. They'd left a bar after knocking back a few shots of Drambuie ("The official drink of the Spongetones," cracks Jamie) and were tipsily ambling down the sidewalk with arms locked in all-for-one camaraderie when Rob stopped to issue an edict.
"Fellas," he said, the only way out of this band is death."
I'll drink to that, because it promises longevity, good health and many more Spongetones albums to come.
The Spongetones are often asked to name a favorite album among the nine they've released to date. Steve doesn't hesitate to answer for all of them: "Our favorite record is the one we're working on. I'm proud of everything we've done, but we're always looking ahead to the next thing."
Speaking of which, they are presently finishing up a new disc. From what I've heard it might be their best ever. And that is saying a mighty mouthful.